As your local water utility provider, we strive to keep you continually updated on all matters related to your water service. If you do not find the information you need, please contact our office and we will gladly assist you!
WATER MAIN BREAK: There is a water main break on Matterhorn Drive. Customers on Matterhorn Dr. and side streets connected to Matterhorn Dr. will be experiencing a loss of water / water...
WATER MAIN BREAK: Fiber Optic Boring Crews have damaged a large main line on Alpine Dr. between Lucerne Lane and Highridge Ct. customers south of this location on Alpine and all side...
WATER MAIN BREAK: Fiber Optic Boring Crews have damaged a large main line on Lakeview Dr. near Thornhill Lane / HVL Pool customers south of this location on Lakeview and all side...
Valley Rural Utility Company purchases the majority of our water from Greendale Utilities, we have Tri-Township Water Corporation as a back-up supplier.
Greendale and Tri-Township both draw their...
Indiana Department of Environmental Management
IDEM Statement: On February 3, 2023, a Norfolk Southern train carrying hazardous materials derailed in East Palestine, Ohio. Several rail cars...
This increase is a result of an increase in disposal fees received from the City of Greendale. The rate increase is a direct pass through and will be in effect on your next bill. The approximate...
If you have a Separate Water Meter, please make sure you call the VRUC office at 812-539-3330 or send an email to www.theresa@vruco.com to verify the reading before you start using the meter. The...
VRUC GENERAL MANAGER'S UPDATE:
For the most up to date information concerning the Valley Rural Utility Company, check our website at www.valleyruralutilityco.com or our Facebook page at Valley...
SAVE MONEY DURING WATERING SEASON!
SEPARATE WATER METER POLICY
812-539-3330 or 513-564-1500 Press 1 to leave a reading or send an email
Click on Water...
To access the Manager's Update please click here....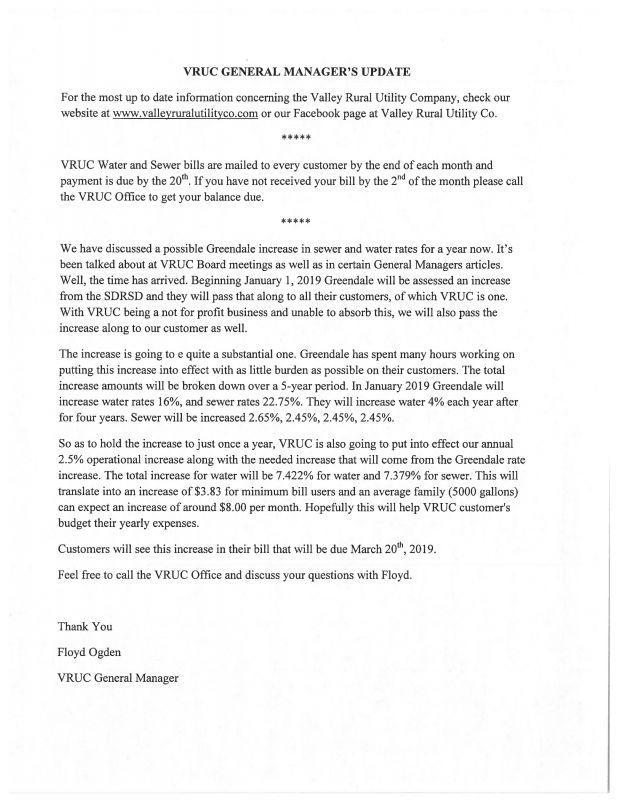 Click here to see the current General Manager's Update./GM-Update