As your local water utility provider, we strive to keep you continually updated on all matters related to your water service. If you do not find the information you need, please contact our office and we will gladly assist you!
VALLEY RURAL UTILITY COMPNAY OPERATIONS DURING THE CORONA VIRUS PANDEMIC
VALLEY RURAL WILL BE CLOSING THE OFFICE STARTING 3/18/20 FOR TWO WEEKS, IF THIS CHANGES WE WILL UPDATE INFORMATION AS...
Attention:
Valley Rural Utility Company is extending the use of the Separate Water Meters until November 15th this year. After this date please store your separate water meters inside of the...
In preparation for the upcoming power outage this Sunday, June 23rd from 6:00pm - Monday, June 24th 6:00am, we are asking that customers try to conserve water during this time. Due to the loss of...
The water will be shut off starting at 3:30PM today between Firewood Way and Willies Restaurant. A water main brake was just discovered. This is expected to take around 2 hours to be completed,...
THE WATER WILL BE TURNED OFF THURSDAY, MARCH 28, 2019 STARTING AT 9AM TO FIX A WATER LEAK. THE WATER WILL BE OFF FOR 3 TO 4 HOURS APPROXIMATELY. THE STREETS THAT WILL BE AFFECTED ARE HIGHRIDGE CT...
To access the Manager's Update please click here....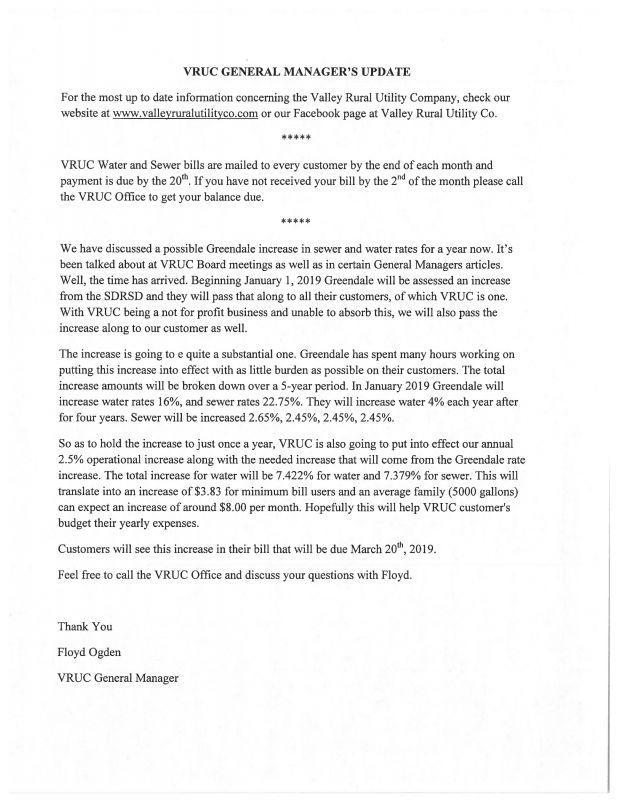 Click here to see the current General Manager's Update./GM-Update